Tragedy Strikes in Allen, Texas
Tragedy has struck with a mass shooting in the United States, this time in Allen, Texas. Around 3:36 p.m. on May 6, 2023, 33-year-old Mauricio Garcia opened fire on a large crowd outside of Allen Premium Outlets, a mall located in Allen, Texas.
In about three to four minutes, the shooter shot fifteen people, killing eight and severely wounding seven others. Of the eight victims, five were adults and three were children, with the youngest being only three years old. Soon after, the shooter was killed by an officer responding to an unrelated call at the mall.
Let's unwrap some background information about the shooter.
The shooter has been identified as Mauricio Martinez Garcia, a 33-year-old man from the city of Dallas, Texas.
Garcia was a former US Army trainee and a current security officer. Garcia never officially completed basic training for the US Army, because three months after he began training, he was terminated due to mental health concerns. Prior to the shooting, Garcia had no criminal record and had been living out of a motel.
Currently, investigators are looking into the possibility of Garcia having white-supermisist and neo-Nazi beliefs. During the shooting, he wore a patch that read "RWDS," which is an acronym that stands for "Right Wing Death Squad."
The Right Wing Death Squad emerged in the 70s and 80s, and, according to Oren Segal, vice president of the Anti-Defamation League's Center on Extremism, was a term used "to describe Central and South American paramilitary groups created to support right-wing governments and dictatorships and oppose perceived enemies on the left."
Upon investigation, it was discovered that Garcia had three guns on his person with an additional five guns in his vehicle. All eight guns were found to have been obtained legally.
A vigil was held for the victims on May 7 at Cottonwood Creek Baptist Church, with the governor of Texas, Gregg Abbott, and Lieutenant Governor Dan Partick attending.
As more shootings continue to occur, it is important to be aware of your surroundings. Pay attention to who is around you and where you are. If you notice anything that may indicate a shooting event is about to occur, get to a safe space and contact the authorities.
We can all help each other by making sure our community is a safe space for everyone. If you notice something on campus, you can notify school administration by texting the Text-a-Tip hotline using the following number: (661) 772-7389.
If you see something off campus around Santa Clarita, you can contact the Santa Clarita Sheriff's Department at the number (661) 260-4000.
If you see something, say something! Help us keep our school and community safe.
About the Contributor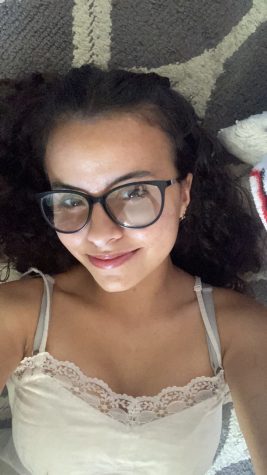 Brenna Sosa, Editor-in-Chief
Brenna Sosa is the Editor-in-Chief of The Pony Express. She is a senior at Canyon High School and this is her second year in the journalism program. As...