Lunchtime Concert Just For Canyon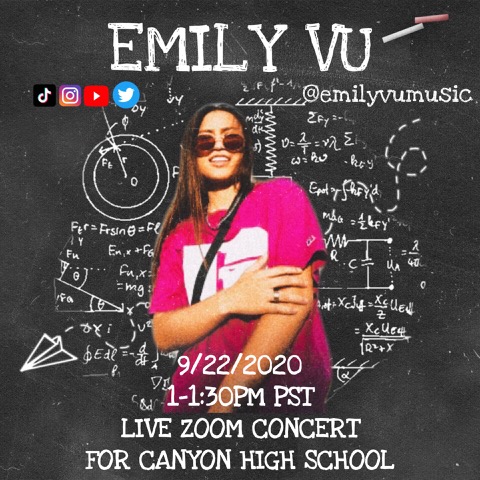 Emily Vu, a nineteen-year-old singer, and songwriter from L.A. who launched her career by creating a platform on the popular social media app Tik Tok has been performing over Zoom meeting concerts for many high schools and middle schools since the start of the Coronavirus pandemic.
Vu performed at Canyon High School on September 24, 2020, during Lunch. The concert featured all original songs from her new EP "Lost &" such as "Drifting," "Weekend," "Someone Else," "Last Fall," and "What Happened, Happened." Vu's new album is out on all platforms and so are her other two albums, "Want To" and "Just Wait."
Vu went to college to be a pediatrician but was presented with an opportunity to launch her musical career about a year ago when a video of her singing and playing a cover of "1, 2, 3, 4" by Plain White T's on piano became popular on Tik Tok. She has been singing, writing songs, and playing instruments such as the violin, drums, and guitar since she was in fifth grade and has been playing the piano since she was four.
If you would like to contact her or check out her social media, her username is @emilyvumusic on all of her social media accounts.
It was such a treat to have her perform at Canyon High School and hopefully, there will be more fun concerts and other events like this one in the future!
Leave a Comment