Trump Down With Covid, But Up In Spirits
On October 2nd, 2020, President Trump and Melania Trump both tested positive for COVID-19.
Trump is part of the at-risk group for COVID-19, and being over 70 greatly increases the chance of death. Despite this, Trump and Melania are still upbeat. The pair tweeted:


Dr. Sean P. Conley, the president's physician, stated "Rest assured I expected the President to continue carrying out his duties without disruption while recovering, and I will keep you updated on any future developments."
Mike and Karen Pence, the vice president and second lady respectively, have tested negative for Covid-19. His physician notes that he does not have to quarantine and is free to continue on his normal routine.
Currently, it is unknown how President Trump contracted the virus. In the past it has been said that President Trump doesn't always seem to follow social distancing advisories, as well as orders to wear masks.
Trump was released 3 days after he checked into the Walter Reed hospital in Maryland. He issued a statement saying: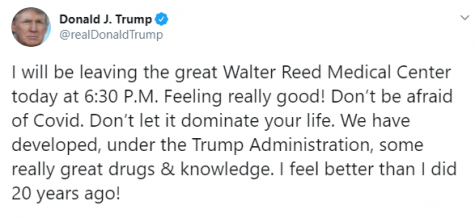 Overall, the positive Covid results are not deterring the President as he is still determined to do his job, during what is hopefully a speedy recovery. 
Leave a Comment