Spreading Kindness, One Sole at a Time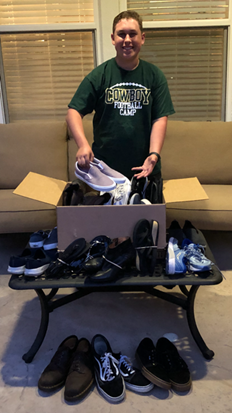 Some people might think that they should avoid buying more shoes because it has become an issue for them. On average, humans throw away around 300 million pairs of shoes each year. It is also said that around 300 million people do not have access to a sufficient pair of shoes. Thankfully some people in our world are trying to help change this disparity.
Soles4Souls is a charity that collects shoes from donations and then distributes them to people in need all across the world. A Canyon High School freshman, Anthony Santos, learned this after finding the Soles4Souls charity. Santos explained "I found out about the Soles4Souls charity two years ago through a volunteer event for my Dad's work." He then went on to say how it made him "realize that the things we take for granted can make such an impact in someone else's life."
Santos goes on to say that he "does believe strongly in Soles4Souls and the things that they do." Because of this he wants to "continue helping them in the future by hosting Shoe Drives each year."
One pair of shoes, believe it or not, can make a huge difference in a person's life. Other than serving the basic purpose of protecting one's foot, it can do a lot more. Having shoes means that children are able to attend school and get an education. This can help them grow and be more successful. Shoes also help an individual get a job and help support their family.
Another way you can look at this is that it could help the world become a cleaner place. Instead of throwing out your old shoes you can donate them to people in need. Santos tells us that "with fewer things in the landfills, the world becomes a cleaner and brighter place."
After finding this passion for giving back Santos shares that he "can help them grow by continuing to share with more and more people what this great organization and community are all about and what they do." Because in the end, as Santos said, "We are not just helping people today, we really are changing these people's lives in the long term."
For more information watch this informational video: https://youtu.be/VqT9T1g3Mew
Send an email to Anthony Santos for help with your donation: [email protected]
Leave a Comment