Homecoming Rally
This year's 2021 carnival themed homecoming rally hosted by Shane Wilson and Zander Branch was a big hit. However, unlike previous years this year's rally was held on the football field. Students made their way down to the field after 3rd period, eager to attend the first rally in 2 years, and were sectioned off into the stands by grade level.
The rally started off with the Canyon band drumline marching onto the field. They gave us a great performance and were also getting the crowd riled up to start the rally. Playing loud, booming drums and some symbols as well, the students who were playing the instruments were rocking back and forth to their own beat.
Shortly after the drumline finished, the JV cheer team ran to the field. They performed a dance, did some stunting and even had a couple girls tumble up front. Even though the girls did perform well, all of the upperclassmen in the stands kept with tradition by booing them after they finished because they are lowerclassmen. Canyon student Kylie Fisher said "It was fun booing the freshmen. It was pretty funny to watch."
Varsity cheer then made their way to the field to their starting positions. Their routine consisted of jumps, tumbling, a dance, and multiple stunts. After finishing they rallied their way towards the stands getting loud cheers and applause.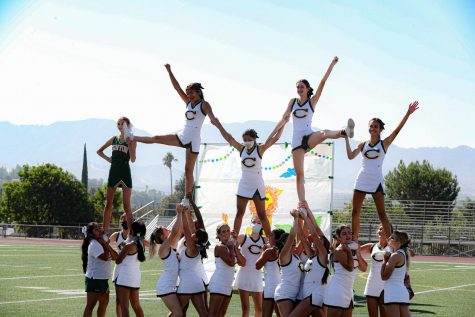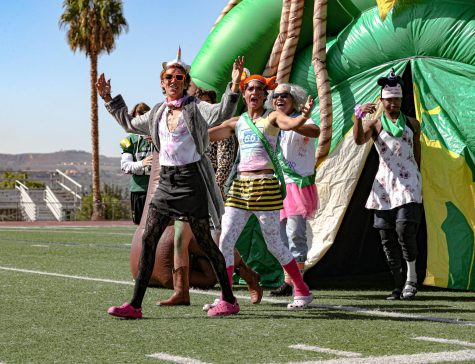 The hosts then brought out the varsity football team to play a game. Empty tissue boxes were tied to their lower backs that were filled with ping pong balls. They then counted down and players had to shake and shake in order to get all the ping pong balls out of their box.
As football finished up their game, Varsity dance was preparing for their turn to perform. Wasting no time they started their routine as soon as they got onto the field. Showing off their sharp motions and in sync moves, they grooved perfectly to the beat of the music being played.
Finishing up our Rally was the homecoming court who were all dressed up in crazy outfits and decorated with makeup and paint as a part of initiation for being in the court. They also did a performance to a mashup of songs. Doing silly dance moves to songs from the past years including "Baby one more Time" by Britney Spears.
I think that we can all agree that this year's homecoming rally was definitely one to remember. Some students enjoyed the new setting while others didn't so much saying that it affected the overall vibe of how a rally usually goes. Fisher also said "I definitely feel being outside on the football field rather than the gym was a contributing factor. I feel people would have hyped it up more and had a better vibe when we were in the gym." No matter how you feel about this rally, there will still be more rallies throughout the year.
Leave a Comment