Underrated restaurants in SCV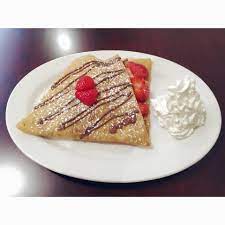 Are you tired of buying those same orders from those same food restaurants? Santa Clarita is notorious for having many common chain restaurants to eat at. However, don't fret,
there are plenty of under-appreciated places that you can eat at in SCV.
Located on Soledad Canyon road, Oh Bella's Cafe is one of the most underappreciated food chains in the city. The menu consists of delicious crepes, frappes that can include boba, and even sandwiches for lunchtime. Canyon Sophomore, Josie Regez says, "Oh Bella's has been one of my top choices for meals for a while now. I love how they have a variety of options to choose from so I never get tired of that place." The cafe never has lines outside the door, however, if more people realized what they are missing out on, that would drastically change.
Just like Oh Bella's, China Express rarely forms lines with a long wait time unlike its chain competitor, Panda Express. This Chinese food source completes your order within seconds, but the taste of the food gives complete satisfaction for the whole day. With their combination of fried rice, orange chicken, and chow mein, customers are left with happy taste buds.
A hole-in-the-wall on the outside, but a remarkable menu on the inside, Maria Bonita's is a small Mexican restaurant located in the Soledad Plaza near 7 Eleven. You can go for the cheesy enchilada combo or the nacho combination including quesadillas, wings, nachos, and taquitos.
Many do not seem to know what Brother's Burgers is all about–a family business with only one location in the Santa Clarita Valley might be the most overlooked of all. Inside is a cozy small dining area, but behind the cooking area is where all the magic happens. Most customers seem to enjoy their breakfast. They serve the most underrated french toast and pancakes in the city.
While these are just some of the underrated food sources in SCV, places like Starbucks, McDonald's, In-n-Out, and more, cause many worthy places to become overlooked. People need to expand the choices of their next meal because there is so much more in this big city of Santa Clarita than it may seem.
Leave a Comment