School Shooting at Central Visual and Performing Arts High School
Early on Monday, Oct. 24, 2022, a gunman opened fire at Central Visual and Performing Arts High School (CVPA) in St. Louis, Missouri.
Students and staff reported hearing gunshots shortly after 9 a.m. but many thought it might have been sounds from a nearby construction site.
It was not until the emergency notice from the loud speakers that said, "Miles Davis is in the building," that students realized the gravity of the situation. Jumping into action, students and staff worked quickly to lockdown and barricade their classrooms. Many students texted their friends and family to say that they loved them.
16-year-old Messiah Miller talked to the New York Times about his experience: "We heard more shots, and they were getting closer and closer. Then he jiggled our door. But he didn't come in."
The shooter has been identified as 19-year-old Orlando Harris, a former student of CVPA who graduated the year prior. Harris reportedly used an AR-15 style rifle and had over 600 rounds of ammo with him.
When police searched his car they found what seemed to be a manifesto handwritten by Harris that read, "I don't have any friends, I don't have any family, I've never had a girlfriend, I've never had a social life, I've been an isolated loner my entire life. This was the perfect storm for a mass shooting."
Including Harris, three people were killed with another seven reported injuries. 15-year-old sophomore Alexzandria Bell and 61-year-old health teacher Jean Kuczka were the two victims killed by the shooter. Bell is described by her family and friends as being an outgoing and joyful person. She always brought a smile to people's faces.
Kuczka began working at CVPA in 2008 after transferring from a nearby performing arts middle school. She was a devoted mother of five and a grandmother of seven. She would often spend her free time participating in charity events for diabetes in support of her son. Her family has requested that any donations made in her honor be directed to the Juvenile Diabetes Research Foundation.
In times like these, it is a good idea to remind yourself to be aware of your surroundings and educate yourself on the possible warning signs of another tragic event.
Be aware of people who may be discussing shooting events, looking up guns or ammunition, and people who say or post anything about wanting to commit an act themselves.
Gun violence is preventable if we work together to keep our community safe. If you hear or see anything that may be an indication of a possible threat, please contact the Santa Clarita Sheriff's Department with the phone number (661) 260-4000.
You can also utilize the Canyon High School text-a-tip line; simply text your concern to the number 661-772-7389, and a member of our administration will contact you back ensuring that they are handling the situation.
We need to work together to keep our school and our community safe. If you see or hear something, say something!
Leave a Comment
About the Contributor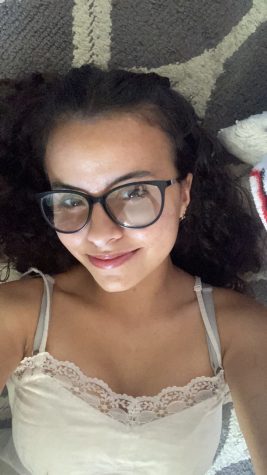 Brenna Sosa, Editor-in-Chief
Brenna Sosa is the Editor-in-Chief of The Pony Express. She is a senior at Canyon High School and this is her second year in the journalism program. As...