The Day of the Dead
The Day of the Dead, also known as El Dia de los Muertos, recently passed. This holiday is celebrated to pay respect and remember friends and family who have passed. The Aztecs and people living in what is now central Mexico saw death as an ever-present part of life.
This holiday lasts for two days, starting on Nov. 1 and ending Nov. 2. On those days, people go to graves to visit their loved ones. They also make home altars called ofrendas. Inside the ofrenda, there is a picture of their loved one and also some of their favorite foods and beverages. People decorate the ofrenda with marigold flowers also known as cempasuchi, sugar skulls, and light candles.
Pan de muerto, guatemalan molletes, and calabaza en tacha are some of the traditional foods people make and eat on the Day of the Dead. Pan de muerto is sweet bread that has bones and skull-shaped figures; after it is baked, it is placed in the ofrenda. Guatemalan molletes is sweet bread stuffed with deep-fried custard and served with syrup that has rum and raw sugar. Calabaza en tacha is a dessert with pumpkin slices, rich caramel sauce, brown sugar, and cinnamon.
Some people take this holiday the wrong way and say that people that celebrate this holiday are being disrespectful to the dead. But really, people celebrate this holiday to remember the deceased and the memories they made.
With the Day of the Dead recently occurring, did you put up an ofrenda for your loved ones, and if yes, what did you put in the ofrenda?
Leave a Comment
About the Contributors
Sherlyn Martinez Samano, Staff Writer
Sherlyn Martinez is a new staff writer on The Pony Express website for Canyon High School. She wants to improve her writing skills and write about topics...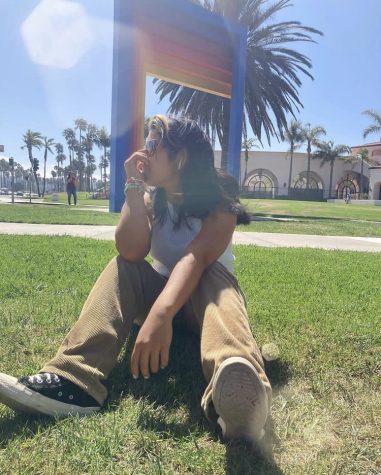 Alexis Alvarez, Staff Writer
Alexis Alvarez is one of the graphic designers of The Pony Express for Canyon High School. She has a big passion for sports especially soccer, she plays...