Monterey Park Shooting
The Lunar New Year is a holiday connected to the lunar-solar Chinese calendar and is celebrated mostly by Asian communities. It is seen as a way to honor heavenly deities and ancestors, so many people celebrate by getting together with friends and family.
One important tradition for the Lunar New Year is dancing as it is seen as a way to bring prosperity and good luck for the upcoming year.
Unfortunately, this year, the fun tradition came with tragedy.
On Jan. 21, 2023, around 10:22 p.m., a gunman identified as 72-year-old Huu Can Tran opened fire at Star Ballroom Dance Studio in Monterey Park, California. Originally, the death count was 10, with 10 others wounded; however, on Monday, Jan. 23, the death count had risen to 11 dead, and nine wounded.
The victims have been identified as My Nhan (65), Valentino Marcos Alvero (68), Yu Lun Kao (72), Ming Wei Ma (72), Diana Man Ling Tom (70), Hongying Jian/ Nancy Liu (62), Wen Tau Yu (64), Xiujuan Yu (57), Chia Ling Yau (76), Muoi Dai Ung (67), and Lilian Li (63).
After leaving the dance studio, Tran went to a second dance studio where he attempted to recreate the scene at Star Ballroom, but 26-year-old Brandon Tsay, who runs the studio with his family, was able to disarm him. Tsay is now receiving a Medal of Bravery from the city of Alhambra, California.
It has been determined that Tran was using a homemade sound suppressor to muffle the sound of his gun. Though it varies state by state, sound suppressors or silencers are currently illegal in California.
When law enforcement officials found Tran, they recovered two other firearms, both registered to the suspect. It was determined that he had died from a self-inflicted gunshot wound.
Many of the surviving victims of the shooting are still recovering in the hospital.
This is not the only mass shooting in California. Within the past two weeks, there have been six mass shootings in California and two in Los Angeles County alone.
It is important to educate yourself on gun violence signs so you can help keep your community safe.
Leave a Comment
About the Contributor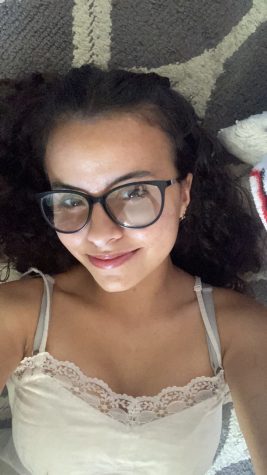 Brenna Sosa, Editor-in-Chief
Brenna Sosa is the Editor-in-Chief of The Pony Express. She is a senior at Canyon High School and this is her second year in the journalism program. As...