Things To Do In Hawaii
There are many people who look forward to visiting Hawaii to see the tropical skies and to taste the delicious fruit the state has. However, it can be overwhelming looking for places to visit and things to do since there is so much Hawaii has to offer. Let's look into the top 3 things to do when visiting Hawaii to hopefully make your planning just a little easier.
One thing to do is to go to the Pearl Harbor National Memorial. This memorial honors and teaches the public about the Japanese attack that occurred in the U.S. on Dec. 7, 1941.
If you plan to go to Pearl Harbor then you should consider buying tickets ahead of time because lines can be long. Pearl Harbor is located on Oahu's South Coast. The ticket prices are $144.99 per adult. Although the prices are a little high, it is definitely worth it.
Another activity you should consider doing is going to one of Hawaii's popular events, a Luau. These events take place in Maui and are a Hawaiian feast featuring music and many cultural performances.
One popular dish to try when going to a Luau is the Kalua Pig. This pig is prepared and cooked in an underground oven. Once it's done cooking, it is then shredded and served. One visitor, Kandace, attended the Luau event and said she had "a great time with the family. Everyone was very kind and the food was good."
Last, but certainly not least, is going to the Wayside Park. This place is a dirt path leading to a beautiful waterfall and natural pools in Haiku. Not only is this place very beautiful, but it is also very tropical and scenic.
Although there are many places to visit and things to do in Hawaii, all islands have something adventurous and beautiful to offer during your stay there. Therefore, you should consider and plan a visit to Hawaii to experience all of these amazing places.
Leave a Comment
About the Contributor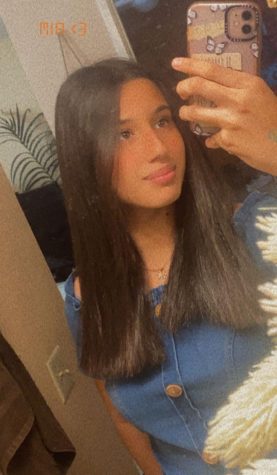 Mia Vasquez, Staff Writer
Mia Vasquez is a new staff writer for the Journalism group.She is a freshman at Canyon High School. She really enjoys it and thinks it's really fun especially...