"Good Riddance" by Gracie Abrams Review
Up and coming singer-songwriter Gracie Abrams recently released her debut album on Feb. 24, 2023, and it includes 13 terrific tracks. This album displays feelings of both responsibility and powerlessness. Abrams creates songs about acceptance and loss, which anyone can relate to.
"Good Riddance" can be described as being extremely self-critical, coming to terms with your own faults, and showing that there is nothing you can do now. This person is making peace, moving on, and changing for the better.
In a Spotify interview, Abrams states that "Good Riddance means surrendering to change. [Abrams] think[s] that a lot of the album is walking away from versions of yourself that you stopped recognizing."
Here are my thoughts on the songs whilst listening to this album:
"Best"
Abrams starts the album off with strong and relatable lyrics, with a mellow melody. Whilst listening to the tune and reading the lyrics, I picked up feelings of not deserving someone and isolating oneself from people. The narrator also acknowledges that he or she is the problem of the relationship in question, in a way owning up to his or her faults in the relationship.
"I know it won't work"
To continue on the idea of feeling like the problem, "I know it won't work" accurately portrays that feeling. This relationship won't go back to what it was before, yet the people in the relationship are still hung up on each other, but they unanimously know it won't work, though they still want each other.
"Full machine"
This upbeat song expresses ideas of being infatuated with someone that the narrator would follow anywhere. The narrator constantly needs this person by their side. Whatever this person does to them, good or bad, the narrator will always choose them.
"Where do we go now?"
"Where do we go now?" explains how the love is long gone. The narrator tries to stay in this relationship, yet he or she is over this person and no longer wants to be with the person. Abrams demonstrates feelings of guilt throughout this song.
"I should hate you"
For some reason, many people relate this tragic song to their parents. This narrator states feelings of the only one trying for this relationship. Although the narrator feels like he or she got backstabbed, they still love this person(s) too much to live without them.
"Will you cry?"
This devastating song exemplifies ideas of feeling broken and letting someone go. The excitement of this relationship is burnt out. The narrator is questioning the relationship, constantly wondering if the other will cry once it is over between them.
"Amelie"
This acoustic ballad, and most likely the most personal track on the album, incorporates feelings of confusion and desperation. The narrator reminisces on this person, who has impacted their life immensely. The narrator repeatedly questions if this person is even real because of how important this person is to the narrator.
"Difficult"
"Difficult" is an angsty song that expresses the difficulties with one's inner thoughts. The narrator nitpicks every single insecurity and repeatedly overthinks many scenarios. This song would be an amazing song to scream, especially with Gracie Abrams.
"This is what the drugs are for"
Like other songs on this album, this song expresses the idea of not knowing how to live without this person. The narrator tries so hard to get this person off of his or her mind, but it never works. The narrator takes drugs in order to feel numb and not think about this person.
"Fault line"
On the tenth track, Abrams sings about feeling connected to this person, yet knowing this person is not benefiting her in any way. This rocky relationship is toxic on both ends, hence the lyric, "Finish hurtin' each other." Abrams beautifully articulates metaphors throughout this track.
"The blue"
Whilst listening to this song, all I felt were chills. This lovely love song talks about meeting this person and feeling an instant connection. The narrator was not expecting to meet this person, yet here this person is, riding life with the narrator. The narrator gravitates to this person and feels so lucky to have this person in their life.
"Right now"
To wrap up Abrams' debut album, she questions if what she is doing in her life right now is the best thing and if it is what she truly wants to do. The answers this thought-provoking question by saying she feels alive and feels like herself. This is an amazing way to end the album.
After listening to this album for the first time, I gave this a 10/10, and still, after having it on repeat, it remains 10/10. This is a vulnerable and well-articulated album, which Gracie Abrams deserves applause for.
She is currently touring this amazing album across North America. On top of that, she is an opener for Taylor Swift on Swift's Eras Tour!
Leave a Comment
About the Contributor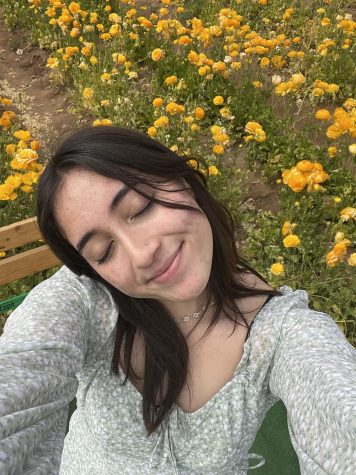 Emily Viramontes, Staff Writer
Emily Viramontes is a Staff Writer for The Pony Express. She is a senior at Canyon High School and loves the journalism program. She is interested in journalism...