Canyon Takes On Old Hollywood
On April 22, many students were filled with excitement and anticipation throughout the day as they prepared for prom. The theme for this wonderful night was Old Hollywood. Many people dressed in fur coats, gloves, and pearls. The most popular colors that were worn were black, green, and purple.
Students lined up as early as 5 PM to get on a bus to the venue. Prom was held at The Vineyard in Simi Valley. When asking senior, Cheyenne Tsuang, what she was most excited to see when going to prom, she stated that she was most excited to see "the venue." She added by saying that "the venue was nice, but just a little small."
Another senior student, Marcus Santos, states that "the dance floor was too small." On the other hand, Giselle Reeser believes that the venue "was beautiful and way more organized than last year."
As for the music, the DJ was someone new for our campus, and many people were excited for what he had in store. Tsuang said that the DJ "kept everyone dancing and was better than our past DJs." To add on, Reeser states, "He did a great job compared to DJs our school has had in the past."
One can't help but think, compared to last year's prom, how amazing this year's prom was. When I asked Reeser if she thought this year's prom was better than last year's she replied with, "Yes, it was definitely better than last year because a lot more people were dancing, and the DJ actually played better music. I think overall people were having more fun." Tsuang added by saying, "I did like this year's DJ better, but I liked the way last year was set up with more space and seating."
This year's prom was definitely a hit, and many students enjoyed every second of this beautiful and magical night.
Even before the prom festivities could begin, there was a fun-filled spirit week to start the celebration early.
Monday was Twin Day, so either people were lucky enough to have a twin, or many people wore matching outfits with their friend(s).
Going back in time, Tuesday was Childhood Throwback. On campus, people recreated their favorite outfit and/or hairstyle from their childhood. People were rocking leggings under shorts or pigtails with bows.
On Wednesday, people dressed as different Bobs. This day was filled with a variety of options. Some people dressed as Bob the minion, Bob the builder, Bob Duncan, and others stepped out of the box and wore wigs of the hairstyle.
Thursday was a fun day as it was Jersey versus Jersey Shore. People wore their favorite team's jersey, or many teased their hair and wore leopard print to imitate the people of Jersey Shore.
Last, but not least, Friday was Beach Day. Students wore appropriate beach attire to close the week; on top of that, the weather was just perfect for this day.
Prom week is an exciting, and sometimes stressful week for many students. All in all, it is worth every emotion since the students at Canyon get to relax and have fun at prom!
Leave a Comment
About the Contributor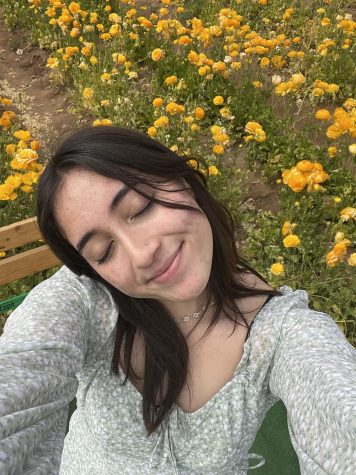 Emily Viramontes, Staff Writer
Emily Viramontes is a Staff Writer for The Pony Express. She is a senior at Canyon High School and loves the journalism program. She is interested in journalism...