Eras in Nashville
Are you from Tennessee? Because you are the only ten I see. Speaking of Tennessee, specifically in Nashville, Taylor Swift performed three nights, where she grew up, at the Nissan Stadium.
On night one, Swift set the single-event attendance record. Yet again, she broke her own record with larger crowds on Saturday and Sunday.
Night one was filled with many emotions due to the anticipation of the show Swift was going to put on. Many people were trying to guess which surprise songs she would play, something she does every night she has a show, where she plays two different songs that no other night on the tour will ever get to hear. People were creating rumors surrounding the idea of Phoebe Bridgers joining the stage with Taylor Swift to sing "Nothing New," since she was joining the tour as an opening act.
To start night one, singers Gracie Abrams and Phoebe Bridgers opened for the beloved singer, and they were fabulous. To add a twist, Bridgers brought out the other members of the band that she is in, boygenius. This was special as she shared her spotlight with bandmates and her friends.
During Swift's "Red" set, people were anticipating when and if Bridgers would walk on the stage. Lo and behold, Bridgers appeared on the stage to sing "Nothing New" for the first time live.
In the middle of her set, Swift decided she wanted to be chaotic. She casually announced that "Speak Now (Taylor's Version)" will be released on July 7. This announcement had every Swiftie in the world squealing and shocked.
She went on to sing the two surprise songs: "Sparks Fly" from "Speak Now" and "Teardrops on My Guitar" from her debut album. Tears were shed by Swifties that were home, watching a live stream, due to not experiencing these songs live, and also by Swifties at the concert hearing these beautiful songs.
Still on a buzz from the night before, night two in Nashville was magnificent. Bridgers joined Swift once again to sing their beautiful song together, and she will most likely join Swift every night Bridgers opens.
The surprise songs for the night were "Out Of The Woods" from her "1989" album, which broke many peoples' hearts, but there is still a chance this song may make a return as she messed up the lyrics, on purpose or not. The other song was "Fifteen" from "Fearless." This choice of song was special since the person "Fifteen" is dedicated to, Swift's friend from high school, Abigail Anderson, was in attendance at this show.
Last but not least, night three was extremely eventful. To start, it seemed as though Nasville was not ready to say goodbye to Swift as the weather decided to cause a four hour delay due to the rain and threatening lightning. Fans took shelter in the building, praying and hoping that the concert would not get canceled.
Thankfully, the weather died down and the show went on as promised. Swift did not take the stage until 10 PM. This show was magical due to the delay, adrenaline rushes, and the rain deciding it wanted to make an appearance at the second half of the show.
The surprise songs of this night were "Would've, Could've, Should've" from "Midnights (3am Edition)" and "Mine" from "Speak Now." During "Would've, Could've, Should've" singer songwriter and friend of Swift, Aaron Dessner, joined her on stage.
The end time of the show was approximately 1:35 a.m., marking the end of the Eras in Nashville.
Swift is now off to her birth and home state, Pennsylvania!
Leave a Comment
About the Contributor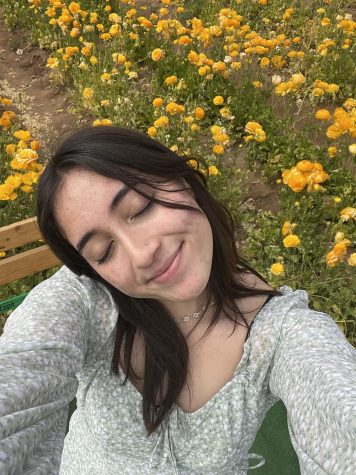 Emily Viramontes, Staff Writer
Emily Viramontes is a Staff Writer for The Pony Express. She is a senior at Canyon High School and loves the journalism program. She is interested in journalism...