Banned Books: Discussing Race in the Classroom
The History of Banned Books
In 1966, only six years after the original publication date, the Hanover County School Board became the first district to ban Harper Lee's "To Kill a Mockingbird." After many complaints from parents and students, the district's vote became unanimous as they deemed the story immoral.
Over five decades later, there is a laundry list of school districts following Hanover County's decision to ban "To Kill a Mockingbird," and the William S. Hart District might follow suit.
On January 12, 2021, The Signal officially announced the Hart district's decision to temporarily remove books like "To Kill a Mockingbird," "The Adventures of Huckleberry Finn," and "Of Mice and Men" from the English curriculum due to concerns voiced by parents and students.
While many no longer see the books as "immoral," these books have garnered controversy due to the excessive use of the n-word. To add to this controversy, parents also worry about these books' discussions of sensitive topics which include abuse, racism, and rape.
Teaching Tolerance
The William S. Hart District's temporary removal of three books that introduce students to the important conversations involving prejudice and inequality leave a critical gap in the curriculum. Some may believe that these topics hold no place in the classroom; however, one can only wonder where students can learn about these topics if not at school.
One can contest that it is an unspoken rule that the classroom is no space for politics or social justice. Others can argue that the classroom should not shy away from historical and current social issues.
Nathan Chong, a senior at Canyon High School, believes, "These books provide historical background needed for students to understand the concepts and norms of the past. They also provide historical lessons that society will be doomed to repeat unless they understand the consequences"
Chong is one of the many students who stand against the district's decision to remove "To Kill a Mockingbird," "The Adventures of Huckleberry Finn," and "Of Mice and Men." As a student who has to read all three books for his English classes, he recognizes the value that they hold in the classroom.
Dr. Short, a doctoral graduate from Harvard Graduate School of Education, claims as well that "teaching children from a young age how to understand disparate perspectives can begin to repair today's widespread divisions."
The capability to hold these difficult conversations that the books bring allows students to develop their critical thinking skills and sharpen their sense of judgment. There reaches a point in a person's study of English when their studies must go beyond learning the basics of reading and writing. These students' education must also connect their readings to the real world.
To Say or Not to Say
Dave Caldwell, a spokesman for the Hart district, told The Signal that one of the many factors which contributed to the removal of these books was the racially-driven murder of George Floyd at the hands of the Minneapolis police.
Following the protests of last summer, many institutions across the nation began taking steps to become racially-aware. Whether it was the discussion of changing mascots or creating electives like Ethnic Studies, it is apparent that the William S. Hart District is trying to promote racial sensitivity in and outside the classroom too.
When it comes to racial sensitivity, it is not uncommon for people to address these banned books as racially-insensitive or even just racist. For example, many people are uncomfortable with the fact that Mark Twain uses the N-word 219 times in "The Adventures of Huckleberry Finn."
All three books that the district temporarily banned use the N-word repeatedly; furthermore, it has been a long debate on if non-black teachers and students should read the N-word in these books aloud.
When asked about schools removing books that use the N-word as an act against racism, Dere Onuwaje, a senior at Canyon High School, responds, "I think it's tone deaf. The reason we read those books is to understand the reality of how low black people were regarded in America. If they don't want kids reading the word, I think they can just have students and teachers skip over that word in class."
Onuwaje brings up an interesting point that if we remove books with the N-word, we cannot hold meaningful discussions about the history and implications of the word.
Conversations about race are not meant to be comfortable or easy. Discourse on the N-word is even harder to talk about. However, schools need to create an open dialogue among students and emphasize the weight of this word.
Our Next Steps
So, what can schools actually do to help dismantle systemic racism, while also educating students about race in America?
The William S. Hart District must first really think about the books they want to implement into the curriculum instead.
Throughout my whole high school career, I noticed that the novels we read in class lack diversity. There is not one required novel at Canyon High School that students read that is written by a Black or Hispanic author. The hundreds of students that do not plan to enroll in AP Literature do not read "The Kite Runner" by Afghan-American author, Khaled Hosseini.
Students should not only learn about other races and cultures from a white perspective. There are many notable authors of color that remain essential to introduce to students.
One can only hope that the temporary removal of "To Kill a Mockingbird," "The Adventures of Huckleberry Finn," and "Of Mice and Men" do not erase the discussion of race from our classrooms entirely, but instead, gives the district a chance to modernize and improve the English reading curriculum.
Leave a Comment
About the Contributor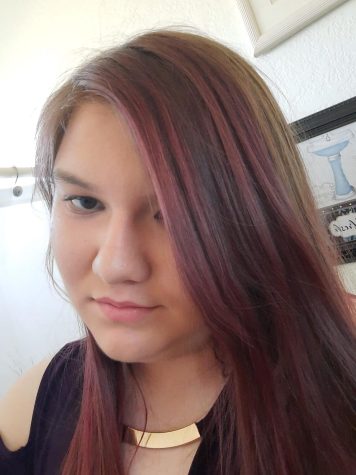 Rhonda Corona, Staff Writer
Rhonda Corona is a staff writer of the Pony Express, who has a passion for writing about whatever interests her, but she mostly writes about arts and entertainment...