How Performing Arts are Surviving the Pandemic
As the one-year anniversary since COVID-19 forced us all to quarantine, the impact has not only affected our sports, but our performing arts as well. Canyon's theatre, choir, and band have also suffered the consequences due to the pandemic.
I was lucky enough to interview some of the students and teachers who make up the performing arts at Canyon. I got an insight into what's been going on, and how they're dealing with COVID restrictions, and not being able to do the events that for many years have been a staple to these interactive classes.
Mr. Hufford is our band director here at Canyon. When asked about performances they've participated in he said, "All of our performing ensembles contributed to a Virtual Winter Concert in December as well as performing in a marching band composed of students from multiple schools in the William S. Hart district."
I also asked him what he and the students are doing to keep band alive. He replies,"Band has been continuing to rehearse and perform virtually. On the social side of events, our students have held a 'virtual game night' where students from the band were able to play Among Us together and bond."
When asked about the annual Battle of the Bands, and how not being able to participate affected band he replied, "It was a difficult situation for us, especially after coming off of our second place in the state season in 2019."
Hufford continued that band's "return to the field will be a long and challenging road as many students have never marched or played music together before." However, they plan on working hard to rebuild the band program, and reinstate the family bond that band has.
As for future performances, Mr. Hufford told me that they "are hoping to have another concert in May but do not have anything locked in yet." Hopefully, these plans work out, and we get to hear another performance that Canyon's band has to offer.
Isabell Avalos is a freshman who is a part of theatre team at Canyon. I asked Avalos how the class is functioning during these difficult times, "we've been doing many monologues in class working on our accents and even taking time just to talk to one another and see how everyone's doing." When I asked her about upcoming events she said that, "this year we will be putting on virtual one act plays for the middle schools."
Mr. Miller is the theatre teacher at Canyon. When asked about the events theatre has participated in, Mr.Miller said this past fall "we competed in our annual DTASC (Drama Teachers Association of Southern California) Theatre Festival, where we took home top awards in our Musical Division and our Tech Division." Even more recently, he said that theatre "competed in our own Hart District Theatre Festival, where students earned high marks of Superior in Shakespeare scenes, contemporary scenes and musical solos."
I asked him if there were any future events that theatre is planning, to say the least, they're definitely keeping theatre alive.
He stated: "We will be working on multiple elements of performance in the spring. Eight students will be performing a recorded version of the musical, 'Sweeney Todd'. Our Theatre 2 class will be filming a series of one-act plays, and the play production class will be recording an Irish suspense play called 'The Veil'."
Mr. Miller told me that, "It has been a challenging year, due to the distance factor." He said that theatre is meant to be an in-person experience between students.
He is excited for the return to campus saying it provides "an opportunity to connect more with each other, build that working relationship of being on the stage together again, and allow to also just spend quality time talking, laughing, and enjoying each other as 'theatre family.'" While theatre has been putting plenty of effort into the class, it hasn't been a straightforward path; it's been an uphill battle that they're all pushing through together.
Katelyne Abalos is a junior at Canyon who is in choir. Abalos says that since the beginning of the school year they've performed in two virtual concerts, "we had our Jazz pop concert online last semester, it was virtual." Choir has also "collaborated with the other high school choirs for the one year Saugus memorial," and "participated in monthly district wide talent shows for the first Fridays of the month."
When asked what the Choir program has done to keep the joy and family bond alive, she said "we have a 'fun day' every Thursday or Friday, and we call those our bonding days." The students play games and chat with one another "with the sole purpose of having fun with each other despite the situation."
When asked how virtual learning has been for her she responded, "It has been okay. In my opinion, it has not been the hardest or the easiest, definitely in the middle. There are a lot of disadvantages online, we only hear our own voice 99% of the time and do everything through a screen. Even though she sees her classmates and friends on a screen, "it isn't the same."
With things finally returning back to a somewhat normal situation I asked how choir is prepping for in-person learning. She said, "Mrs. Caswell has a mobile cart," due to the fact that singing classes must be held outside, "but it will be difficult to hear each other and sing. However it is nice to sing with others even if it's distanced with masks." An exact date hasn't been set in stone however, Abalos says "Either virtual or live streamed in May we will have our Spring Concert that we have been preparing for."
The Performing Arts program at Canyon have all had to learn to adapt to virtual classes. Yet, they've found ways to continue keeping the arts alive and well. It hasn't been easy for any of the students and teachers, of course nothing beats in-person learning, especially for classes like band, theatre, and choir, where they form great bonds and consider each other a family.
Leave a Comment
About the Contributor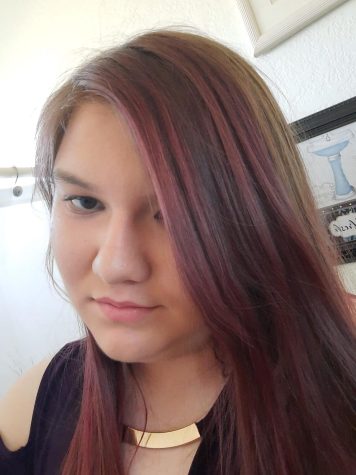 Rhonda Corona, Staff Writer
Rhonda Corona is a staff writer of the Pony Express, who has a passion for writing about whatever interests her, but she mostly writes about arts and entertainment...