Choir Makes a Comeback with Jazz Pop!
Can you think of a better way to start the school year than with a performance by our very own Canyon choir?
Canyon choir had their first performance in almost two years on Thursday September 23, and Friday September 24, 2021. Their last choir performance done at Canyon took place on December 13, 2019 and was their winter concert for that year.
Junior Bella Smith, who is a member of Concert Choir, talks about her feelings regarding being able to perform again, "I was extremely disappointed Freshman year when we had to cancel our Cadaret concert. I am so happy that we are able to finally perform in front of a live audience again and I can't wait to be on stage."
All of the different groups in choir such as Treble, Concert, and Madrigals, as well as the Jazz Ensemble have been preparing since the start of the school year to put together an amazing performance for Canyon families for the Jazz Pop: Chart Toppers event.
This performance opened with "We Are the Champions" by Freddie Mercury, performed by all choirs, and was followed by an amazing solo performance by Senior Katelyne Abalos who sang "If I Ain't Got You" by Alicia Keys.
The Jazz Ensemble played "Pick Up The Pieces" for their first song as well as playing the background music for all of the songs sung by the Madrigals choir group.
Each of the different choir groups had their own songs they individually performed; Treble choir performed "Lovely", by Billie Eilish and "How Will I Know" by George Merrill. Concert choir, the largest choir group at Canyon, sang "Ain't No Mountain High Enough" by Nickolas Ashford and "Blinding Lights" by Ahmad Balshe.
The final choir group, Madrigals, accompanied by the Jazz Ensemble sang "Everybody Wants to Rule the World" by Ian Stanley and "Don't Stop Me Now" by Freddie Mercury.
Definitely the biggest surprise of the show was when Senior Angel Reynolds rickrolled the crowd by singing "Never Gonna Give You Up" by Rick Astley. In this performance, vocal music director Kelly Caswell and vocal music student teacher Evann Carter joined Angel on stage, dancing and singing background vocals while the crowd had a great time. This was most certainly a performance to remember.
For the last performance of the night, all of the performers came together to sing "Rosanna" by David Paich. Once the song had concluded, choir officers were called up to say their acknowledgements to different people around Canyon who helped make this performance possible. Then seniors were invited up to do a bow as they had just concluded their first performance of their final year in high school.
These performers have worked endlessly hard to put on a spectacular performance for Canyon families and we cannot wait to see what they do next!
Leave a Comment
About the Contributor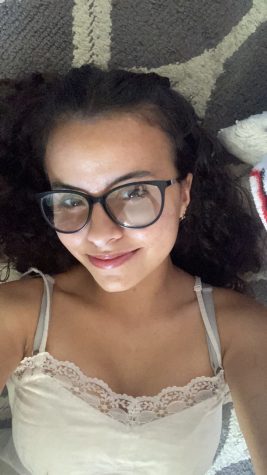 Brenna Sosa, Editor-in-Chief
Brenna Sosa is the Editor-in-Chief of The Pony Express. She is a senior at Canyon High School and this is her second year in the journalism program. As...