The Importance of Attending School Events
Every year, throughout our education and before seniors graduate, there are multiple school activities held. Students get the choice to go to dances, rallies, sports games, and more, but what is the school's purpose for holding such events? Should students be attending these events or doing something else?
Some people, like parents, would say that going to school events allows us to put ourselves out there, get out of our comfort zone, and have fun with other students by dancing or cheering on our teammates. We are meant to enjoy high school and have fun in general while being with our friends or partner.
At Canyon High School our staff, such as teachers, assistant principals, counselors, and librarians, would say that the importance of school events is to help encourage students to be a part of the school and have fun. For example, Miss Alonzo Ayon, our new counselor, pointed out that school events are part of a "school culture" that ensures "students feel included and are part of their school environment. It's to feel good about coming to school…because there needs to be a balance between in school and out of school."
Whereas our Assistant Principal, Mrs. Anderson said these events "try to create a good community…To bring fun, because you only have four years left of your education…and it's going towards the end of your childhood. We want to make the most out of it: socially, academically, and mentally."
Despite what teachers and staff say, some students say otherwise. For instance, Amber Maldonado, sophomore, chooses not to go to events because "it's expensive."
Other students say that these events are beneficial. Kennidi Lopez, senior, expresses that school events are "exciting and you get to be part of the school, while connecting with other students."
Alicia Cluci, senior, mentions, "it gives a reason for students to hangout and to do something outside of home."
For freshmen it's a different experience than what seniors feel. Claire Murphy, a freshman, said, "It's a good time to bond with friends outside of school…It encourages social interaction and creates good memories." While Taylor Zahirt, another freshman, expresses that "it's fun, makes me happy, it's entertaining, and better than being at home. It makes people think about school spirit."
Even though some students cannot afford the dance tickets, it is not just dances where students can interact with other students. Clubs give you an opportunity to make a difference, sports games allow you to see how well each student plays, rallies help you see how hardworking each student is from creating our student section to the routine of dance. These events that are held allow you to socialize with other students.
The importance of attending and having school events is to create memories and so much more. Without these events, school would not be as fun, and like Miss Alonzo Ayon said, there needs to be a balance between academics and fun.
Leave a Comment
About the Writer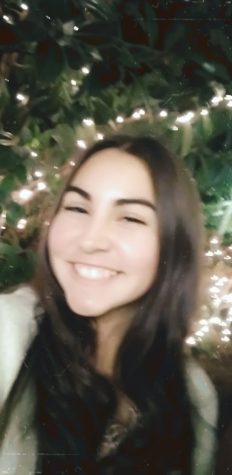 Trinity Contreras, Staff Writer
Trinity Contreras is a senior staff writer in the journalism program, she has been with the program and has been a staff writer for only a year, this is...