Recap on JV/Freshman's Cheer Football Season
As football season comes to an end, here is a little recap of what your JV and Freshman teams have been working on.
Cheer has been working since the beginning of April this year, and over time they have made so much progress and improvements from learning over 60 cheers, halftime routines, and harder stunts. During football season, they did an amazing job cheering their Cowboys on!
JV cheerleader Aryanna Ochoa answered the following questions.
1. What was your favorite game to cheer for this football season?
A: "The game vs Castaic High School because we won by a lot and the cheerleaders were so hyped and energetic during the game."
2. What is your favorite stunt to do and why?
A: "My favorite stunt would be an extension or a basket because they are one of the more challenging stunts, and accomplishing them makes me proud."
3. What are you most excited about for basketball season?
A: "I am most excited for the new stunts we are going to learn and having multiple game days a week."
While being able to accomplish all these things, it would have not been possible without JV and Freshman's very own Coach Tiffani. None of this would have been possible if she was not here to help, so here is her input about the football season.
1. How have the cheerleaders grown as a team?
A: "Overall, they have changed so much since the beginning of the season. Many of them are much more motivated to learn harder skills and perfect them. I have seen how fearless and strong they are all becoming and trusting the learning process more."
2. What was your favorite stunt to teach the cheerleaders and why?
A: "My favorite stunt to teach so far has been the paper dolls and the flip pyramid. It's been awesome to see them willing to try harder skills and take it so seriously to ensure everyone stays safe."
3. What are you most excited for the coming basketball season?
A: "I'm excited to push you guys more with stunts and try new skills!"
Now that the cheerleaders have finished their football season, they are excited to see what basketball season has in store for them!
Leave a Comment
About the Contributor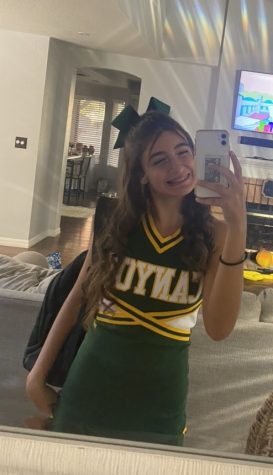 Neela Batrikian, Staff Writer
Neela Batrikian is a new staff writer for Journalism at Canyon High School. She is in 9th grade and loves the Journalism class because of how flexible...