Girls and Boys Basketball Season So Far
One of Canyon High School's most popular sports is basketball, and it has been a very thrilling season so far. Both boys and girls basketball have been bringing their best game to the court, and the stands have been filled up with Canyon students and parents cheering them on.
Currently Varsity girls are 18-7, and Varsity boys are 14-14, but let's dig deeper into the games that have happened this season.
Boys Varsity basketball has had some tremendous wins this season. In a more recent game against Castaic High School, the Cowboys defeated the Coyotes and won with a final score of 64-48.
Another highlight win for the Cowboys was against the Golden Valley Grizzlies. The Cowboys gave it their all and ended up beating the Grizzlies by one point, with the final score of 45-44.
The top game that kept everyone in the stands on their toes was a recent game against Hart High School, where the two teams stayed neck and neck all four periods. Crazy enough, the Cowboys beat the Indians with a tight score of 44-43.
Senior player, Tyler Best, has a few things to say about this season so far. He believes that his team's biggest accomplishment this season was beating Salesian High School the first time they played against them.
On the other hand, he says that the toughest part of this 2023 season was, "figuring out how to enhance our team chemistry on the court and also figuring out how to play to each other's strengths," but thankfully all that hard work and dedication has paid off and has shown on the court.
Tyler has a very positive overall view from this season. He says, "We have worked very hard to win the games that we did, but we could have fixed a lot of our mistakes earlier in the season to secure a few other wins that we should have gotten. I think we have done a good job this year, and hopefully we win these next two games coming up to secure our spot in the playoffs."
Moving on to Varsity Girls, who are having a beyond amazing season so far.
They are breaking records with a score of 101-13 against Castaic High School, and if that wasn't enough for our girls, they went back to Castaic again to have another big win, with a score of 89-5.
One of the biggest games this year against Hart High School was one for the books. The teams kept a very tight score which took them into overtime. Both teams continued with a close game, but Canyon took the win at the very end when Aaliyah Garcia closed the game with two free throws, putting the final score at 54-52.
They have also had big wins against Golden Valley (64-34), Valencia (60-46), West Ranch (64-17), and more.
One player leading the Cowboys to their success is senior Jade Sims. She averages a stunning 16.3 points per game and also leads the team in rebounds with 5.4 rebounds per game.
Jade has some great things to say about this season. She believes that the toughest part of this season was "staying together as a team and being on the same page." However, Jade believes that the team's biggest accomplishment was "overcoming our losses and learning from them and growing each time."
Jade firmly believes that the key to success this season for the Varsity Girls was "playing as a family and playing hard like our lives depend on it."
Both Boys and Girls Varsity have secured a spot in the CIF playoffs, with girls placing first in Foothill League and Varsity Boys placing fourth.
Unfortunately Varsoty Boys got knocked out of playoffs at round 2, but the girls continue to go to round 3 of playoffs.
Canyon is so proud of both our teams this season. Let's go, Cowboys!
Leave a Comment
About the Contributor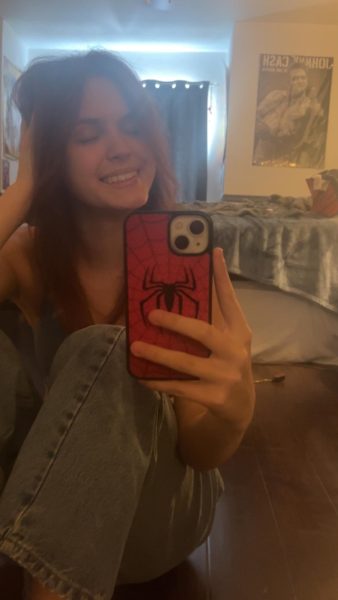 Katie Sharp, Editor-in-Chief
Katie Sharp is the Co-Editor-in-Chief for Canyon High School's journalism program, "The Pony Express." This is her third year in journalism, and...