Taming of the Shrew Review
On March 25, 2023, Canyon High School's Performing Arts Program had their opening night of Shakespeare's play, "Taming of the Shrew." Then, the next day, they performed two more shows starring a few different students.
This play takes place in Vegas (Padua), and starts off with the beautiful Bianca, played by Tali Lazar, singing in what looks like a speakeasy, a classier night club. She's very pretty, and appealing to most men as she has Lucentio, played by Seamus Floyd, gawking over her.
These two, being so in love, want to get married, but they get hit with a very uneasy deal. Her father Baptista, played by Ryder Williams, tells them that they may not get married until her older sister, Kate, played by Marley Garner and Baliey Bond, does. Now, this doesn't seem like a big problem, but Kate isn't necessarily the easiest woman to find a husband for; she is very independent and sharp-tongued.
But just in time, a man from Verona, Petruchio, played by Hannah Dodge and Lance Hurd, is looking for a wife. Bianca then sends her suitors to have the two meet.
Surprisingly, when Pertruchio meets Kate, he sees something great and beautiful in her, and he is up for the challenge. Kate, on the other hand, is not up for it.
She feels forced, and hates the idea of getting married, but the rest of her family is on board for it.
Other characters in the show are: Tranio, played by Aliana January; Gremio, played by Mack Crawford; Grumio, played be Sofiah Lopez; Biondello, played by Carol Gonzales; Pedant, played by Emily Mancini; Vincentio, played by Matias Berrios; Curtis, played by Kat Moreno, and the Widow, played by Sam Gonzales and Lexi Milak. They all really helped build the plot of the story, and added such great comedy to it.
Another conflict, however, quickly comes to the surface. Hortensio, played by Mason Miledi, is also in love with Bianca. This is shocking because Biana is madly in love with Lucentio. So, the two men, Hortensio and Lucentio, battle for Bianca's love.
Finally, the marriage of both the couples happens, and it stirs up quite some chaos.
This romantic comedy was definitely one for the books, with lots to unpack. For starters, all the actors did a phenomenal job with their characters. They really made their characters unique to themselves, and it really spiced up the play.
The ongoing conflict between the sisters was hilarious, and it really portrayed both their characters perfectly. It emphasized the differences between Kate and Bianca and had the crowd laughing like crazy.
At times, I did get lost in the moment of the play, but the actors made it easy to still understand the full story.
I think this play was very interesting, and it made it even more enjoyable for myself because I love the movie "10 Things I Hate About You." The storyline is very similar to "Taming of the Shrew," but the ending is definitely different and more modern in the movie.
I would give this play a solid 8/10, and I can't wait to watch their spring production of the musical "Rent," happening on May 3, 4, 5, and 6.
Great job to all the cast members, stage crew, and director, Mr. Miller.
Leave a Comment
About the Contributor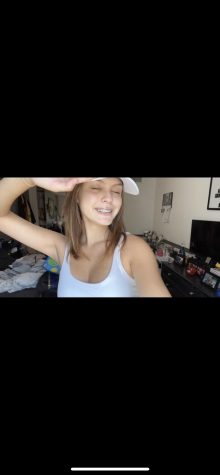 Katie Sharp, Staff Writer
Katie Sharp is a staff writer for Canyons journalism program The Pony Express. This is her second year in journalism and she loves it very much. She doesn't...