Five Nights at Freddy's Movie
After about a year of nothing but rumors, fans are finally given what they've been patiently waiting for so long. "Five Nights at Freddy's" is getting turned into a movie! This movie will be released later this year on Oct. 27. So, before Freddy comes and terrifies us on the big screen, let's talk about what we know so far and what we might get from the movie.
The film is going to be based on the indie horror game series called "Five Nights at Freddy's," but you can be sure to expect more than just someone sitting in front of a screen in a cramped office for two hours. The film is most likely going to follow the major events in the story, like the missing children incident, the bites of '83 and '87, and possibly William Afton's springlock failure death, based on behind the scenes photos from a twitter account called 'FNAF movie updates.'
The project had been passed on between two production companies throughout the years since the first game came out due to multiple issues. Warner Bros Pictures first announced undertaking the project in April 2015. However, in Jan. 2017, Scott Cawthon announced that, due to issues within the movie industry, the film was met with multiple delays and challenges, such as the original director, Gil Kenan, saying that he will no longer be directing the film, and the challenges the writers faced with the script.
There have been multiple versions of the script and screenplay that have been scrapped or revised over the years, due to the fact that the writers wanted to make a story that would make Cawthon proud. Soon, Jason Blum announced that the movie would start production in Feb. 2023 under Universal Pictures.
The movie began filming on Feb. 1, 2023 after over two years of issues with the script being made; they had recently finished filming on April 3 under the direction of Emma Tammi and with a script written by Tammi, Seth Cuddeback, and the creator of the FNAF series, Scott Cawthon.
The main cast that we know so far of the movie includes, Matthew Lillard as Wiliam Afton, Josh Hutcherson as Mike Schmidt, Piper Rubio as Abby Schmidt (Mike's sister), Elizabeth Lail as Vannessa, Mary Stuart Masterson as an unknown female villain, David Huston Doty as Ghost Kid #3, Jophielle Love as Ghost Kid #5, Jessica Blackmore as Mike's Mother, Adam Hann-Byrd as Freddy Fazbear, John Sanford Moore as Bonnie, Stacey Depass as Chica, Roger Joseph Manning Jr. as Foxy, Ted Atherton as Golden Freddy, Jane Wheeler as The Puppet, and Dylan Hoerner as Balloon Boy.
Some secondary characters were also introduced as joining the cast, including Lucas Grant as Gartett, Christian Stokes as Hank, Joseph Poliquin as Carl, Bailey Winston as Kim, Tadasay Young as Dr. Lillian, Ryan Reinike as a Freddy's Security Guard, Victoria Patenaude as Social Worker, and Erin McCluskey as 80's Newscaster.
There are some characters that are still to be announced, but hopefully the cast are able to bring the characters that we grew to love and fear to life.
According to Blumhouse, on the initial release day of the film, it will be available in both theaters and on Peacock. So, if you don't want to be in a dark room with the animatronics scaring you on the big screen, then you can be terrified in the comfort of your own home.
Hopefully the movie will live up to fan's expectations and bring Fazbear entertainment to life. Just know that, once the animatronics come into your home, you will not be spared, and you will not be saved.
Leave a Comment
About the Contributor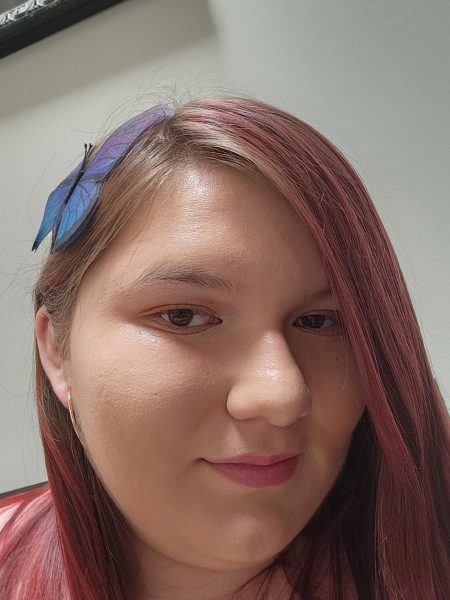 Rhonda Corona, Section Editor
Rhonda Corona is both a section editor and a graphic designer for the Pony Express. She is in her fourth year of Journalism and she mainly writes about...