A Mexican Style Christmas
When you think of Christmas, what do you think of? Do you think of presents, caroling, chestnuts roasting over an open fire, stockings over the fireplace, freshly made cookies, Santa, etc.? In Mexico, while they have a similar take on Christmas as in the US, they have additional traditions and the celebration goes on for much longer. The festivities begin on December 12th and are extended into the new year until January 6th. So the celebration goes on for at least a month!
Now you may be thinking, what kind of celebration lasts a month? During this period in time, different traditions are practiced on different days. Here are some different traditions each celebrated during the Christmas season.
Dia de la Virgen de Guadalupe
On December 12th, Mexican pilgrims travel to a church in the heart of Mexico City called the Bastilia of Guadalupe, to visit the Virgin Mary. Parades and live musical performances take place throughout the city. Buñuelos, a fried dough disk dessert covered in cinnamon sugar, are either made in households or sold by the dozen by street vendors in celebration.
Posadas
Posadas is the longest straight forward running celebration period of the Christmas season from the 16th of December to the 24th. The main tradition performed during this time is the reenactment of Mary and Joseph's search for shelter performed by processions. Each night children sing the traditional Las Posadas song, walking from house to house, asking homeowners to let them inside, which is similar to caroling. Each night the processions end at a different house for celebration with an abundance of food, drinks, and piñatas!
Nacimientos
Posadas isn't the only tradition that starts on December 16th, another tradition called Nacimientos also starts on the same day. The tradition revolves around Mexican families putting together Nativity scenes in their homes, however, they're not only found in homes, they can be found in town centers with small or giant replicas of the manger, animals, Jesus, the shepherds, Joseph, and Mary. From the 16th to the 25th more characters are added until Christmas Eve, Baby Jesus is placed into his crib. Then on January 25th, the Three Kings are placed into the scene.
Noche Buena
Noche Buena, which directly translated means "good night", means Christmas Eve in Spanish. On this day families will attend a midnight mass together, then partake in a family dinner. Common things found on this day are fireworks and Flores de Nochebuena aka, poinsettia flowers which are found all over city centers, outside, and inside family homes.
Dia de Reyes
January 6th is known as Dia de Reyes, which translates to, Three Kings' Day. This day is when Mexican children receive gifts as a symbol of the gifts brought by the Three Wise Men. Another tradition is when families and friends share a customary Rosca de Reyes, a sweet bread baked in the shape of a wreath. The point of this tradition is that there are baby Jesus figurines hidden in the bread and whoever finds one in their piece is expected to host the Dia de la Candelaria party in February.
Dia de la Candelaria
On February 2nd, Dia de la Candelaria marks the end of the Christmas celebrations. On this day local people take their Christ figurines to church to receive a blessing. Afterward, families gather in a family member's house, if that member found the baby Jesus inside their piece of the Rosca de Reyes on Dia de Reyes, for a family feast.
During these traditions, families cook amazing food for the different gatherings held such as, Tamales, which are steam cooked dumplings with different fillings wrapped in corn husks or banana leaves. Bacalao, a dried, salted codfish, which had originated from Europe. Buñuelos, a crispy fried fritter sprinkled with sugar, or covered in syrup, fun fact, after finishing this treat, it's tradition to make a wish and throw the plate on the ground. Ensalada de Nochebuena, a Christmas eve salad that is made of different fruits and vegetables, depending on who's making them, but the most common ingredients found in it are, lettuce, beetroot, carrot, pineapple, pecans, and pomegranate seeds. Pozole, which is a family favorite, and it's either made with pork or chicken. It's usually served in large batches in large families, which is why it's a favorite. Finally, Ponche Navideño, which is a hot fruit punch made from tejocotes, an orange-like fruit, guavas, apples, and it's flavored with cinnamon and piloncillo, an unrefined cane sugar.
All in all, these traditions hold a special place in the hearts of many Mexican families. It's an amazing way for families and friends to come together, and celebrate the birth of Jesus Christ. Now while quarantine may restrict many of these traditions, families will try to find ways to keep the celebrations alive.
Leave a Comment
About the Contributor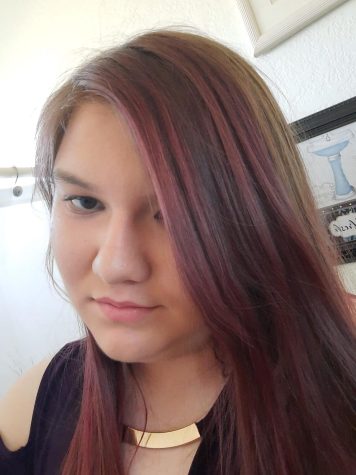 Rhonda Corona, Staff Writer
Rhonda Corona is a staff writer of the Pony Express, who has a passion for writing about whatever interests her, but she mostly writes about arts and entertainment...