Spooky Season
How do you explain October? You can't, it isn't possible to describe many people's favorite time of the year. Most people like October because they look forward to celebrating their favorite holiday; Halloween. This year is especially exciting because everything we love about October is finally back and it will be full of celebrations, costumes, and candy!
In 2020, we missed out on attending all of our favorite events–Fright Fest, Oogie Boogie Bash, Knott's Scary Farm, Halloween Horror Nights, Halloween in Miniland, even trick or treating…but they are finally coming back.
With October comes a slew of traditions like watching the famous movies that come around every year. From the standard horror films like "Nightmare on Elm Street" to the children-friendly movies like "Hocus Pocus" and "The Nightmare Before Christmas".
This year at the Banc of California Stadium, "The Nightmare Before Christmas" by the famed Tim Burton, will be revamped with a new live experience for audiences starring Danny Elfman. Billie Eilish will play the voice of Sally.
Here in Santa Clarita, Fright Fest is back at Six Flags complete with scare zones, haunted mazes, fright by night entertainment, and obviously the rides. Junior, Kylea Knecht, says Fright Fest is "fun! you can still take pictures with everyone, there's more monsters now that are all over the park". The added bonus is the fact that Magic Mountain is "open 'til one in the morning" said Isaac Vivez. "They have three big sections where they have people who'll jump and scare you, they have their haunted mazes, there's one guy who's on stilts and a big gigantic spider".
For the Disneyland fanatic, Disney's Halloween Party Oogie Boogie Bash is back. Kids are encouraged to dress up in their Halloween costumes and explore the immersive treat trails where they can collect goodies from all kinds of Disney characters and simultaneously experience character sightings, frightfully fun parades, villain's groove and more. One Disney fan, Cheyanne Casilla, said that the festivities at Disneyland were "surprisingly under control. They have good rules about masks and have a bunch of hand sanitizer everywhere. There's also regulations about how many people are able to get on rides. They're spacing it out".
Another kid-friendly destination can be found at LEGOLAND California, the Halloween in Miniland. This place might not be for teenagers, but it could still be a fun stop with younger siblings or cousins.Guests can participate in costume contests, spooky color jam, and leave with a goodie bag (kids only).
Knott's Scary Farm is also back. There are all kinds of scary events, such as carnEvil, ghost town street, pumpkin eater, haunted mazes, sinister shows, tons of scary monsters lurking around in the park and more.
Halloween Horror Nights at Universal Studios, one of the scariest places to go during the season, is another classic stop in October. Horror Nights is not for the faint of heart, but for the thrill seeker who loves the scares and spooks of creatures jumping out at you, following you, and paralyzing you with fear.
It doesn't matter how old we get, Halloween events will always be an October favorite because it brings joy to every night and day. Here is to a spooktacular Halloween.
Leave a Comment
About the Contributor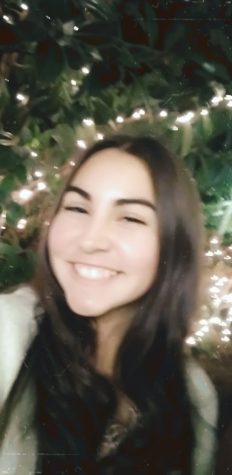 Trinity Contreras, Staff Writer
Trinity Contreras is a senior staff writer in the journalism program, she has been with the program and has been a staff writer for only a year, this is...