Senior BBQ
On Tuesday, Oct. 25, Canyon's class of 2023 gathered in the quad to celebrate our annual Senior Barbeque!
As one of many of the events provided by the school for the departing seniors, the event was a way for students to spend quality time together and commemorate their final months in high school. They also signed the Senior Quad, something that many students have been looking forward to for years.
"I remember seeing all of the seniors' signatures when I was a freshman while walking through the quad," senior Cassidie Macandilli recounts. "I didn't realize then how fast high school would go by then. My own senior year felt so far away, that signing it myself now feels so bizarre."
At the beginning of lunch, the students were guided to a food truck provided by the Habit Burger Grill, where they acquired burgers and fries for their meal. Afterwards, everyone headed to the Senior Quad to receive their senior shirts and sign their very own signatures onto the pavement, where they will remain for the rest of the school year.
Many seniors changed into their shirts to take pictures together. Others signed the quad with inside jokes and memories they have had with friends during their time at Canyon.
"Every time we have one of these senior events, I realize how close we are to graduating, and it's something that's really bizarre to think about," Tatiana Georges, senior, stated. "But it's really nice to have the opportunity to celebrate our last year and spend time with the people who we've known for so long for the last few times."
This year's Senior Barbeque served as both a bittersweet yet enjoyable bonding experience for the class of 2023; being able to look forward to the rest of the year, but knowing it is your last.
Leave a Comment
About the Contributor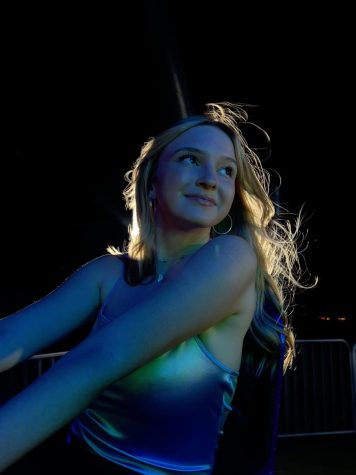 Ava Welch, Copy Editor
Ava Welch is the Copy Editor of the Pony Express. She is a senior in high school and this is her second year in the journalism program. In her junior year,...