Into the Woods Review
Canyon High School's theatre department had its opening night of "Into The Woods" on February 11th. It was filled with spectacular songs, amazing acting, and great time for the whole audience; the best part was watching students from Canyon make this all happen. "Into The Woods" was filled with many ups, downs, twists, turns and even comedy.
"Into The Woods" starts off following a baker (Seamus Floyd) and his wife (Hannah Dodge) who wish to have a child, along with Cinderella (Leia Cockerell) who wishes to go to the King's Festival. Jack (Sela Belle Vazquez) has to sell his cow, Milky White. When the Baker and his wife find out they are unable to have a child because of a curse the Witch (Ashley Villa), the Witch sends them on a hunt for 4 very special items so they can have children: a cape as red as blood, a strand of hair as yellow as corn, a golden shoe, and a cow as white as milk. In the end, everyone's wish is granted, but the consequences of their actions come back and haunt them with detrimental results.
Lance Hurd, a freshman at Canyon, did an astonishing job playing the role of the Narrator and Mysterious Man. He was filled with plenty of jokes and knowledge of what was going on during the play.
Leia Cockerell, a senior, and Ryder Williams, a junior, who played Cinderella and her Prince respectively, play a very cute couple. They fall in love just as in the movies, but in the end, he makes poor decisions that cause them to split up.
Seamus Floyd and Hannah Dodge play the baker and his wife. They portray very beautiful chemistry on stage and they finally have a child together. Sadly, she dies in the end but they both played their characters amazingly.
Mack Crawford, a sophomore, played Jack's Mother and blew everyone away with her marvelous singing. Sela Belle Vazquez, who played Jack, showed amazing emotion and a hilarious role.
Of course, you can't have Cinderella without her evil family. Jade Asis, a senior, played Florinda and Emma Palacios, a junior, played Lucinda. Kat Moreno played her Stepmother and Thomas Raphelt, a senior, played her Father. They all were as evil as in the movies, but they were very humorous.
Ashley Villa, the Witch, absolutely stole the show with her very dramatic transformation and angelic singing. She connected her story with Rapunzel who was played by Kayla Snyder fell in love with her prince played by Matias Berios. They end up having twins together when Rapunzel finally leaves her tower.
The story of Red Riding Hood and the Wolf was amazing as well. Sofiah Lopez is a freshman who played the role of Red Riding Hood. The adventure is just like the original story of her going to visit her grandmother who is sick. Granny was played by Angela Reynolds, a senior at Canyon. They played their role very well and were very hilarious. We can't forget about the Wolf played by Ryder Williams. Their story together was very funny and well played.
Cinderella's actual mom is played by Kaitlyn Crawford who is a freshman and it was her very first show. And she absolutely rocked it. From her singing to her acting was very impressive.
Towards the end of the story comes a giant who smashes and kills a whole bunch of characters. Kayla Orozoco a senior played her story of the Giant very well and very funny.
All of these fairytale characters come together in the end. And the Baker, his baby, Cinderella, Jack, and Red Riding Hood ends up together in the end as one family after losing their family members.
From love to death, hilarious jokes, and plenty of plot twists, "Into The Woods" was a very amazing show to watch. And the Canyon Highschool drama did a fabulous job. A 10/10 performance.
Save the date for their next performance "Ugly Lies The Bone" by Lindsey Ferrentino, on May 5th, 6th, and 7th at 7:00 pm.
Leave a Comment
About the Contributor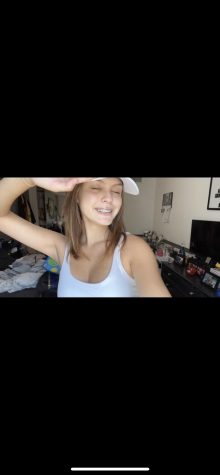 Katie Sharp, Staff Writer
Katie Sharp is a staff writer for Canyons journalism program The Pony Express. This is her second year in journalism and she loves it very much. She doesn't...