The Gap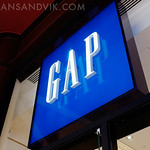 As sweater season has approached, I am excited to get new sweaters from Gap. The first Gap store was opened in 1950 by Don and Doris Fisher in San Francisco, California. Their intention was to make it easier for customers to find jeans that "fit with a commitment."
The first Gap store only offered two items: jeans and records. Don "nearly named the store "Pants and Discs" but his wife suggested "The Gap." "By 1973, Gap had 25 stores across the United States and expanded to the East Coast."
Gap was the largest specialty retail company in the United States for decades. As Gap grew, more items became available like sweaters, hoodies, t-shirts, sweatpants, dresses, pajamas, and more. Gap Kids, GapBody, and BabyGap stores were opened later on.
In 1990, the company started to have problems. Reports were made stating "poor working conditions at factories overseas." They had failed experiments meaning they were not able to launch new items in their stores. Gap began to feel weight on them and closed 189 stores by 2013. Still, until this day, the company has had problems and began to have many sales before closing stores down. The Fisher family lost about $1 billion in 2019.
"Ye," also known as Kanye West, recently had a collaboration with Gap. 90 dollar cotton hoodies in 6 different colors black, brown, tan, red, blue, and purple. Gap said "it sold out in a matter of hours."
Moving all the struggles and problems Gap is having aside, they have some of the best hoodies, and I cannot wait to buy more!
Leave a Comment
About the Contributor
Sherlyn Martinez Samano, Staff Writer
Sherlyn Martinez is a new staff writer on The Pony Express website for Canyon High School. She wants to improve her writing skills and write about topics...